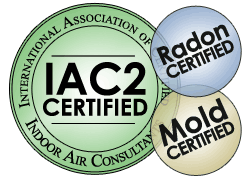 The smallest things can make the biggest difference
Residential & Commercial Inspections​

Mold, Radon Gas and Water Testing

Investor and Realty Consulting
I am only a phone call away
CALL ME NOW
to schedule your inspection or ancillary testing
Why you should hire me for your next inspection
I am an InterNACHI Certified Professional Inspector.
The International Association of Certified Home Inspectors (InterNACHI) front-ends its membership requirements. InterNACHI turns down more than ½ of the inspectors who apply because they can't fulfill the membership requirements. Please note that I said- inspectors. These are "professionals" who are already in the inspection business servicing people like you and not just novices who are trying to break into the inspection profession. They are out there marketing their services to an unsuspecting public when they cannot meet the strict educational, training and experience requirements that InterNACHI demands of its membership. As a result, when you choose an InterNACHI Certified Inspector like me, you know that you are choosing an industry-leading professional who performs the best inspections by far. InterNACHI Certified Professional Inspectors earn their fees many times over, and yes we generally charge a little more, but if you really want the best inspector to protect your investment, a few extra dollars now can potentially save you thousands later. So please do yourself a favor and hire me, an InterNACHI Certified Professional Inspector, so that you can get the quality inspection that you deserve and the peace of mind to know that you hired the best.
​ 2. I have over 15 years of experience in the Inspection Industry with over 25 years total in the Building Trades.
I have been inspecting residential and commercial buildings for over the past 10 years. You can put your trust in me as you will know that you are not just hiring an inspection expert, but an expert tradesman who knows all of the ins and outs of the construction process and as such, I have a much larger knowledge base than most other inspectors in my field. I have completed a 4 year/8000 apprenticeship program with the Michigan Regional Council of Carpenters Local #687 along with another 8 years as a Journeyman before starting my own inspection business. This type of training cannot be bought and must be earned through years of hard work and dedication. Choose me as your inspector and let this experience work for you
3. I hold many additional Professional Certifications to offer my clients better services and more selections.
I hold multiple certifications in Radon and Mold inspection and testing. Furthermore, I hold an IAC2 certification in Indoor Air Quality (as well as Radon and Mold). I have over 15 individual certifications from InterNACHI including Commercial Property Inspector, Log Home Inspector, Mobile Home Inspector, Home Energy Inspector, Energy Savings Specialist, Crawl Space Inspector, Deck Inspector, Roof Inspector, HVAC Inspector, Electrical Inspector, Exterior Inspector, Home Energy Auditor, Garage Inspector, Kitchen Inspector, Pool & Spa Inspector, Safe Workplace Inspector, Septic Inspector, Stucco Inspector, and WDO (Wood Destroying Organism) Inspector. I have the training and certifications that are needed to provide the type of inspection that you deserve.

4. I offer my clients Quick and Easy Scheduling options.
For the convenience of my clients, I try to make myself as available as much as I can to my clients. This includes accepting inspection appointments 7 days a week, with most inspections occurring within 24-48 hours of initial contact- some inspections occurring the very same day. In addition, I schedule inspections during all daylight hours (I will not inspect a home in the twilight or dark as the lighting element during an inspection is extremely important- even for the indoor portions of an inspection.) Generally, I prefer to do no more than 2 inspections per day as my inspections are extremely thorough and typically last for 3-4 hours with another 2-3 hours spent researching and writing the inspection report. So not to worry, by selecting me to perform your inspection, you will know that I can get to you quickly while meeting your scheduling demands without being overbooked and rushing through every inspection to be able to perform more inspections per day.
5. All things considered, my Inspection Packages have a high value of return for my clients.
As you know, most people in the US believe that in most cases, you typically get what you pay for. As a "high-end" inspection firm, you may find my pricing a bit higher than some others, then again you may not as I try to stay competitive and check my competitor's sites often so as to come in under their fees. But the fact of the matter is that with all of the extra benefits that I include in each inspection package, my clients always get more than what they have paid for. Even if you disregard my high level of tooling, training, and experience, my overall packages are a much better value. Let us start with the Home Warranty and RecallChek inclusions; both are provided to you with any inspection at no additional charge. Many of my competitors do not include such bonuses and still charge just as much if not more than I do. The Home Warranty alone can be worth up to 4 to 5 times the cost of the inspection should there be a problem, while RecallChek can literally save the lives of your family if I discover an appliance that is a potential fire hazard and then have it repaired for you free of charge- this is priceless. Even if you just consider the inspection itself, I employ the use of many of the industry's latest tools and equipment that many others simply do not have or they charge an additional fee for the use during their inspection. Again, the value of return for my inspection packages shine. Lastly, I offer a 100% satisfaction guarantee so if you are unsatisfied with the service that I have provided, you owe me nothing meaning there is absolutely no risk by placing your confidence in me. I can go on and on but I believe that you can see my point.
So when you are calling different inspectors to inquire about their skills, training, certifications, and yes, pricing; please make sure that you compare value to value. And when you do, I am confident that you will find my name at the top of your list.
Call me now and schedule your inspection, I look forward to speaking with you. (734) 666-8488