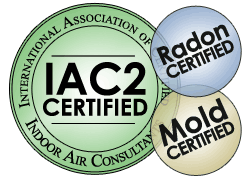 What exactly is Radon?
Radon is a cancer-causing, radioactive gas.
You can't see it, smell it, or taste it, but Radon is estimated to cause well over 25,000 deaths each year (more deaths than from melanoma or
drunk driving.)
Why? Because when you breathe in Radon gas over a period
of time, you can get lung cancer. The more Radon you are
exposed to, and the longer the exposure, the greater the risk
of eventually developing lung cancer.
The U.S. Surgeon General, American Lung Association,
World Health Organization and many others have
warned that Radon is the second leading cause of lung
cancer today.
Radon is 5 to 6 times more dangerous to your lungs than secondhand smoke. If you smoke and your home has elevated Radon levels, your risk of lung cancer is especially high.
The U.S. EPA estimates that nearly 1 out of every 15 homes has elevated Radon levels.
Radon problems may be
more common in some
geographic areas, but any
home can have high radon.
Schools, daycare facilities,
and workplaces can also
have elevated radon levels.
Ask whether they have
been tested.
Radon can be found
everywhere and in any
home new or old, well
sealed or drafty, with or
without a basement.
Radon gas comes from the natural (radioactive) breakdown of uranium in soil, rock, and water and gets into the air you breathe. It can enter any type of building, including homes, offices, and schools. But you and your family are most likely to receive
your greatest exposure at home, where you spend most of your time.
How does Radon get into your home?
Radon gas typically moves up through the ground and into your home through cracks in floors or walls, joints, gaps around pipes and other holes or cavities in the walls or foundation. Radon can enter the home even when no visible cracks exist. Your home traps Radon inside, where it can build up. Radon also can enter the home through the
well water. In some rare cases, building materials may be a source of Radon gas.
After the test: What does it mean?
Radon in Air: U.S. Environmental Protection Agency (EPA) recommendations:
Fix your home if the Radon level is 4 pCi/L (picoCuries per Liter) or higher.
Consider fixing your home when Radon levels are between 2 pCi/L and 4 pCi/L (because there is no known safe level of Radon).
In addition, due to normal fluctuations in Radon levels, you should retest your home every 2-3 years.
Radon in Well Water: Recommendations vary from state-to-state for Radon in water, with many states providing no recommended action level. However, EPA has developed a proposed regulation to reduce Radon in drinking water. As a result of that regulation, the action level for radon in public water supplies will likely be 4,000 pCi/L.
Fixing a Radon Problem
Reducing Radon levels is straight forward but can be a bit costly depending upon the size of your home. After I test your home and we discover that you have elevated levels of Radon, the first step is to hire a Certified Radon Contractor (mitigator). You will want to get several estimates and check references- this is no time not to be thorough. After you select a mitigator and the work is completed, I should then re-test the Radon levels to ensure that the work was done properly and that the Radon mitigation system is performing as intended. One more than one occasion, I have discovered brand new systems that were not functioning as they should.
Radon in Air: For most homes, the
mitigator will perform a diagnostic
evaluation, seal cracks and install an
active soil depressurization (ASD)
system. An ASD system changes the air
pressure beneath your home and
then, through the use of a Radon fan,
draws out the Radon gas and safely
vents it above the roofline.
Radon in Well Water: The two most
commonly used types of waterborne
Radon reduction systems are aeration
and granular activated carbon (GAC).
The Radon level is a primary factor in
choosing between these systems.*
*The EPA, for example, does not recommend GAC
for Radon levels above 5,000 pCi/L.

Radon Testing
I offer IAC2 Certified Radon Testing & Reporting
radon_mitigation_system.jpg
aeration radon mitigation system.jpg
Granular activated Carbon Radon mitigation system for well water Home inspector
Call me now. (734) 666-8488
When should I test for Radon?
There never is a bad time to test for Radon, the sooner the better. Most professionals recommend testing for Radon during the following:
Buying or renting a new house

Selling your current house

Building a new house

Your house has never been tested

Your lifestyle has changed (e.g. spend more time at home, work from home)

You are spending more time in the lower level of the house (added a family room downstairs)

You are planning on adding a bedroom in the basement

It has been more than 2-3 years since your last Radon test
How much does it cost to test for Radon?
The cost for a standard Radon test is $149 with any inspection or $179 as a standalone test. These costs include all lab fees. The test takes 48 hours and then another 48-72 hours to get the lab results. Should you be under a closing deadline, your agent will be able to easily get an extension pending the results of the Radon test as it is that important.
Please let me know if you have any questions or wish to schedule.
A Home Inspection Checklist